evation
The lightest and most compact drive system in the industry
Lightweight, integrated, natural, hybrid: evation is the lightest and most compact mid-mounted drive system around. Thanks to the slim in-tube solution, bikes fitted with evation have a non-motorized overall appearance. A unique natural riding feel with no mechanical resistance above the legal speed limit makes our system perfect for anyone looking to enjoy a brisk ride. And with our Downtube Cover, you can even ride your bike without any electric assistance at all.
The evation drive system
With a total weight of 4.6 kg, evation is probably the most discreet mid-mounted eBike system on the market.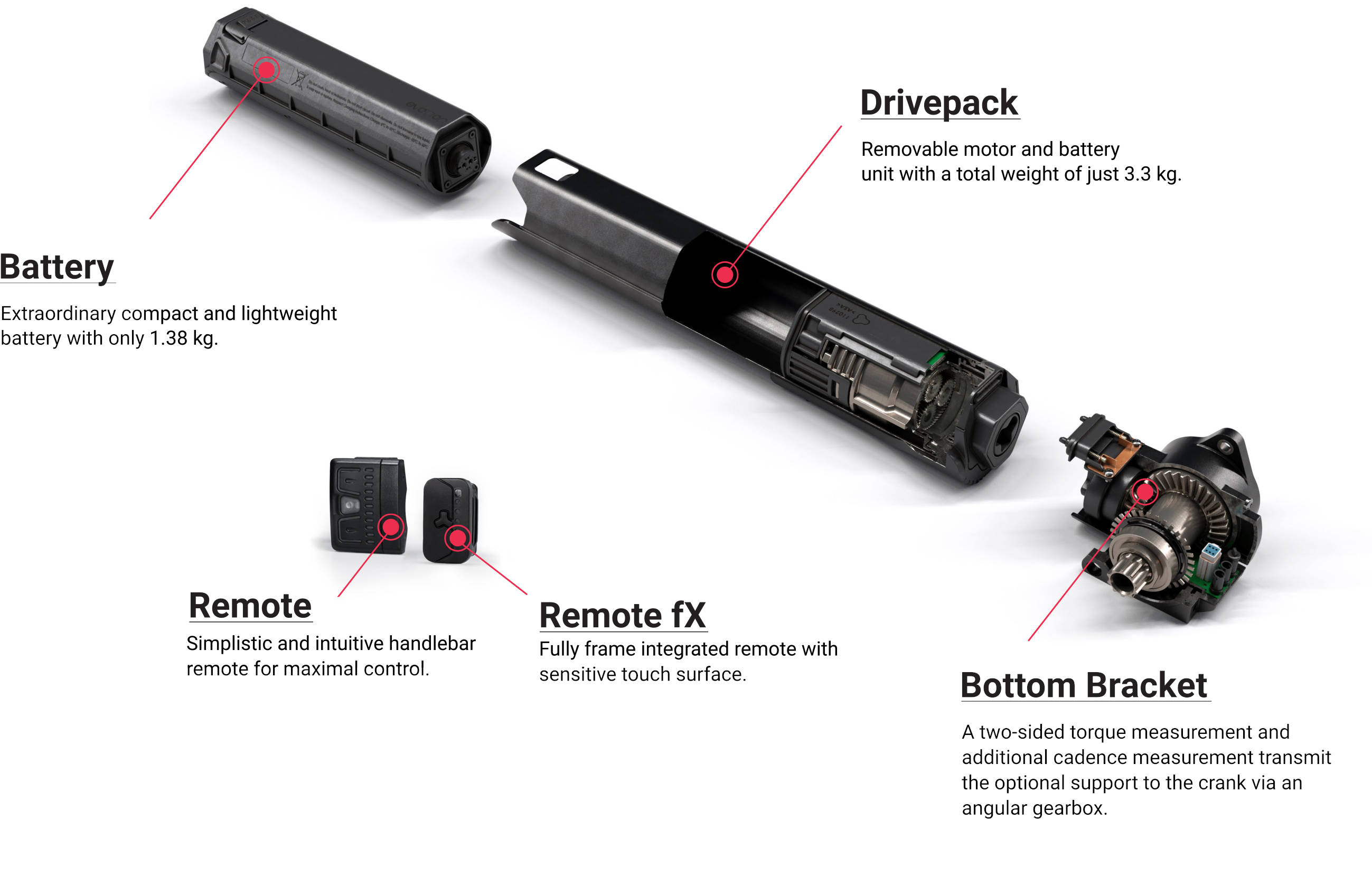 Battery

Extraordinary compact and lightweight battery with only 1.38 Kg.

Drivepack

Removable motor and battery unit with a total weight of just 3.3 kg.

Bottom Bracket

A two-sided torque measurement and additional cadence measurement transmit the optimal support to the crank via an angular gearbox.

Remote b

Simplistic and intuitive handlebar remote for maximal control.

Remote fX

Fully frame integrated remote with sensitive touch surface.
Lightweight


total weight of 4.6 kg
Fully integrated in frame

slim in-tube solution
Natural riding feel

no resistance above legal speed limit
Hybrid drive system

electric or natural—your choice!
Three different riding modes
Choose from three levels of assistance or pedal without any help, just as you would on a non-motorized bike.


≡ Breeze
Feel the tailwind and extend your battery runtime.
(Support can vary)


≡ River
Add some solid power and sail the trail.
(Support can vary)


≡ Rocket
Rock on!
(Support can vary)



Fazua's digital tools
Our Fazua Toolbox is the companion software for evation and opens up an entirely new way of looking at our drive system. Additionally, our Fazua rider app allows you to collect data that will help you learn more about your training progress, your bike and your riding style.
Drivepack
The Drivepack includes an integrated motor and electronics and also houses the battery...
Bottom Bracket
The Bottom Bracket is an angular gearbox fixed in the bike and includes integrated electronics...
Remote b
A simple and intuitive handlebar Remote for maximum control, completed with an LED display of the battery charge and system status...
Remote fX
The Remote fX is fully integrated into the frame and is literally part of the bike...
Locker pX
The new evation Locker pX is a more highly integrated and sturdier solution that delivers an improved user experience...
SPEED SENSOR
The speed sensor transmits the current riding speed to the drive system using a spoke magnet...
Downtube Cover
This hollow aluminum cover weighs in at just 490 g and fits snugly into the down tube of any bike...